In this week's episode of "#Cooking" by TODAY All Day, Samah Dada gives two classic Italian dishes their own delicious touch. First, she makes a lighter, baked version of fried eggplant that is super crispy thanks to a gluten-free breading with almond flour. Then she conjures up a vegan cacio e pepe in a creamy cashew sauce, which is garnished with homemade vegan parmesan.
Today all day / TODAY all day
One of the most popular Italian dishes made with eggplant is eggplant parmesan, which is delicious but traditionally breaded, deep-fried and topped with cheese. This simplified version is all about the crispy, flavorful crust, but doesn't require frying – and is dairy-free and gluten-free.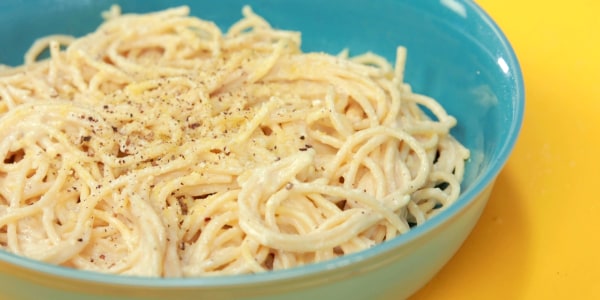 Today all day / TODAY all day
Cacio e pepe is one of those dishes that everyone loves because it's so simple but full of flavor thanks to umami-forward cheeses like Parmesan and Pecorino Romano. My take on the Italian staple food uses nutritional yeast and cashews to create a delicious, creamy sauce that is completely dairy-free. And of course I didn't forget a generous amount of freshly cracked black pepper to keep the "pep" in "pepe".